ECONOMY & TRADE
GENERAL INFORMATION
VISIT TAIWAN
¡@
Restaurant
Toscana (Sherwood)
Widely regarded as Taipei's finest Italian restaurant, Toscana's chef favors light, healthful interpretations of classical seafood and pasta dishes. Greenery, glass, and fresh flowers mark Toscana as a restaurant with flair. Using only the freshest of local and imported ingredients, Toscana's menu is a celebration of the seasons, featuring authentic dishes from the Tuscan region of Italy. And for those seeking to mix business with a little gustatory pleasure, Toscana's business lunch offers superb entrees accompanied by an antipasti and salad bar with imported Italian meats, greens, and seafood.
Address:

111, Min Sheng E. Rd., Section 3, Taipei, Taiwan

Phone:02-27181188

Reservation Phone:02-27181188 # 3001

Fax:02-27130707
¡@
Business Headlines
Trade Shows
Taipei 2001 International Cycle Show

The Republic of China (ROC), Taiwan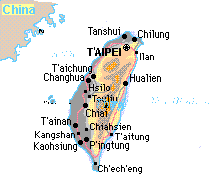 The territory of the ROC inculdes Taiwan island, Pescadore Islands(Penghu), Kinmen, Matsu, and other 21 islands. That is known as the Taiwan area.
Taiwan located in the Pacific Ocean about midway between Korea and Japan to the North and Hong Kong and Philippines to the south. The geographic coordinates are: 23' 30" N, 121' 00" E.
There are about 21,000,000 people live in the 36,000 kilometers(14,000 square miles) area.